TURN YOUR BIBLE INTO A LEGACY OR TREASURE CHEST FOR YOUR KIDS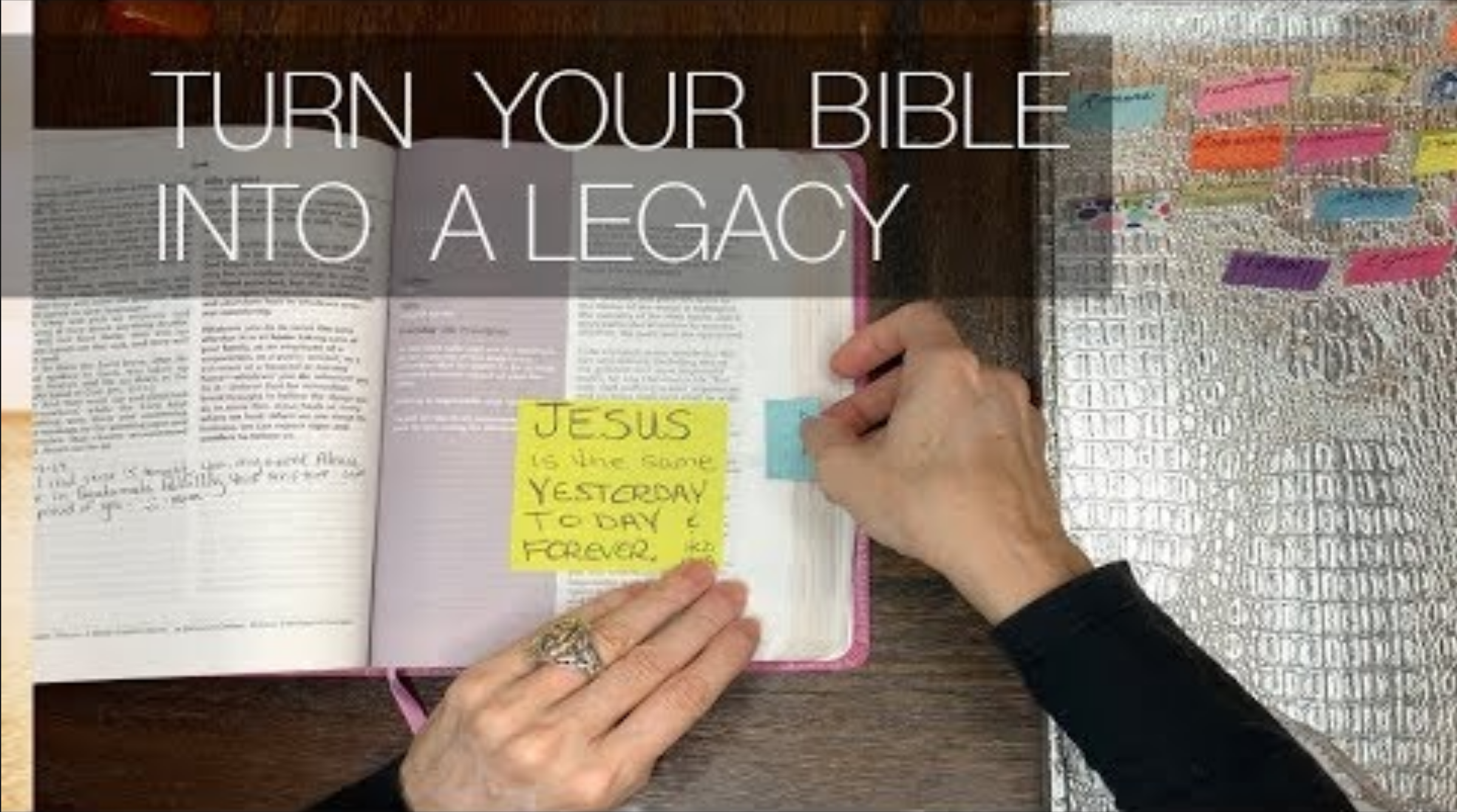 Turn Your Bible Into a Legacy or Treasure Chest for Your Kids
Today I show you why I use two bibles and how I am intentionally highlighting them, color-coding them, and leaving "stones of remembrance" in them for my children and grandchildren. Then, join me as I give you some fun ideas on how to turn your bible into a legacy and how to fill the bibles you will pass on to your family with special treasures they will never forget.
THINGS YOU WILL NEED:
Before we start "tabbing" our bible, let's talk about WHY it is so important to use the truth of God's Word as the paramount resource for wisdom in the lives of your children and grandchildren. Teaching them to meditate, memorize and fall in love with scripture could be greater than paying for them an Ivy League education.
Joshua 1:5-8 – No one will be able to stand against you all the days of your life. As I was with Moses, so I will be with you; I will never leave you nor forsake you. Be strong and courageous, because you will lead these people to inherit the land I swore to their ancestors to give them.
"Be strong and very courageous. Be careful to obey all the law my servant Moses gave you; do not turn from it to the right or to the left, that you may be successful wherever you go. 8 Keep this Book of the Law always on your lips; meditate on it day and night, so that you may be careful to do everything written in it. Then you will be prosperous and successful.
Start today making the truth of God's Word the FACTS your family builds their life upon. Discover how the economy and currency of the Kingdom of God far outweighs the money we exchange on earth!
__________________________
Downloads:
_____________________________
Please leave your comments and thoughts below by clicking the "comment" button at the bottom left.
Find this useful? SHARE this post and let's spread the word to more women!
___________________________
OUR CURRENT BOOK STUDY
Want to silence the voice of the enemy and listen ONLY to the voice of God's truth? Want to clearly recognize God's perfect will in your life and have peace in knowing you are fulfilling your purpose in life? Join us for our Summer Book Study and learn that living a God-inspired life of TRUTH really is Mission Possible.
___________________________
NEED PRAYER?
Let ourEMwomen prayer team pray with you today!
___________________________
REFLECT AND RESPOND
Share your comments and ideas below to encourage others!
___________________________
FORWARD TO A FRIEND
If you enjoyed this post, please forward to a friend by clicking on one of the buttons on the left hand side of the page.