HOW TO HIGHLIGHT YOUR BIBLE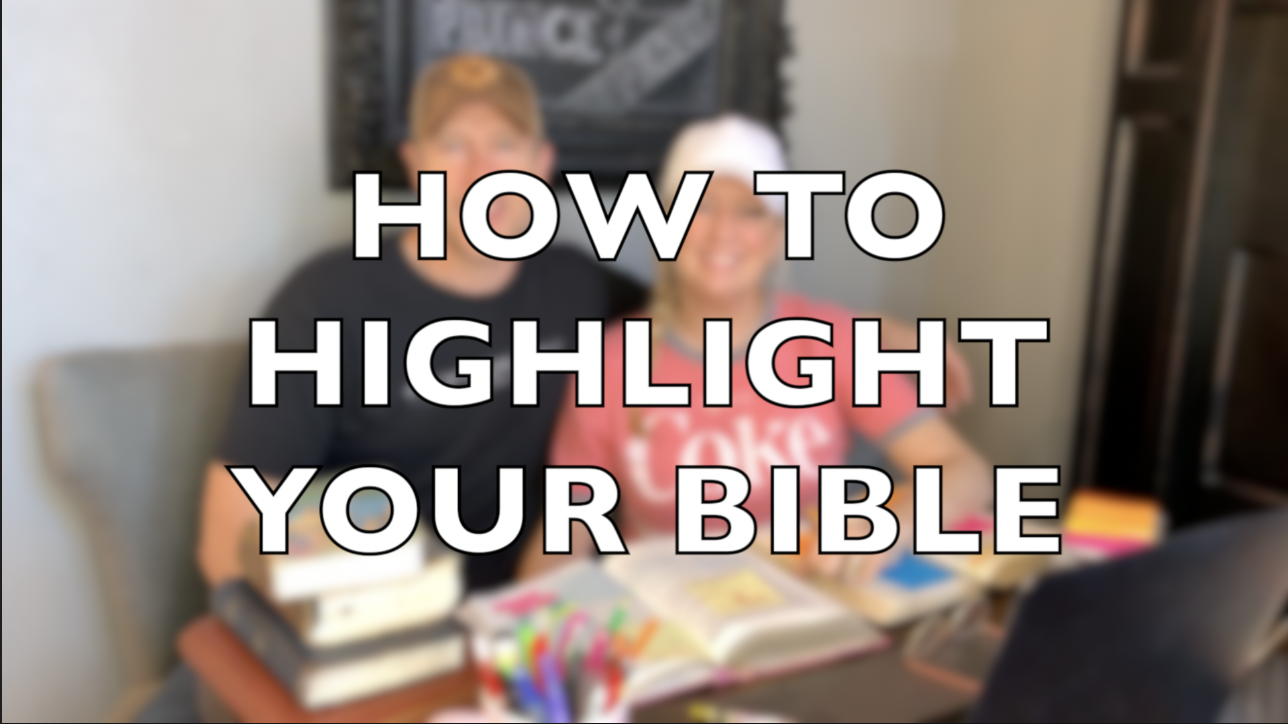 THINGS YOU WILL NEED:
HOW I STUDY MY BIBLE
"Show me someone's bible that is falling apart and I'll show you someone who's life is not." – Charles Spurgeon
Studying, marking, highlighting, and digging deep into your Bible is like digging for gold. It promises a 100% guarantee that you will find gold if you search for it in His Word.
Psalm 19:7-10
7 The law of the Lord is perfect,
refreshing the soul.
The statutes of the Lord are trustworthy,
making wise the simple.
8 The precepts of the Lord are right,
giving joy to the heart.
The commands of the Lord are radiant,
giving light to the eyes.
9 The fear of the Lord is pure,
enduring forever.
The decrees of the Lord are firm,
and all of them are righteous.
10 They are more precious than gold,
than much pure gold;
Why is it so important to teach people to know how to study the Bible for themselves? In a world with YouTube sermons, epic church services, and speakers with extraordinary speaking skills, why should YOU learn how to create sermons for yourself? Why should YOUR bible look like you have been spending hours upon hours studying it for yourself?
An old proverb once said, "Give a man a fish and you feed him for a day but teach him how to fish and you feed him for a lifetime." The same is true in the church today….Give someone a good Sunday sermon and you give him a meal for the day, but teach someone how to study their Bible for themselves, and you will feed them for a lifetime.
3 Reasons to Highlight and Mark Your Bible
Remembrance
Memorization
Cross-Referencing
David was a great example of someone who had great emotional distress throughout his life. But instead of staying down, he continually encouraged himself by focusing on God.

Psalm 57:4-7
4 I am in the midst of lions;
I am forced to dwell among ravenous beasts—
men whose teeth are spears and arrows,
whose tongues are sharp swords.
5 Be exalted, O God, above the heavens;
let your glory be over all the earth.
6 They spread a net for my feet—
I was bowed down in distress.
They dug a pit in my path—
but they have fallen into it themselves.
7 My heart, O God, is steadfast,
my heart is steadfast;
I will sing and make music.
__________________________
Additional scriptures:
Rejoice always, pray continually, give thanks in all circumstances; for this is God's will for you in Christ Jesus. – 1 Thessalonians 5:16-18
But the fruit of the Spirit is love, joy, peace, forbearance, kindness, goodness, faithfulness, gentleness, and self-control. Against such things, there is no law. – Galatians 5:22-23
__________________________
Downloads: