4 Steps to "Unleashing the CHAMPION Within"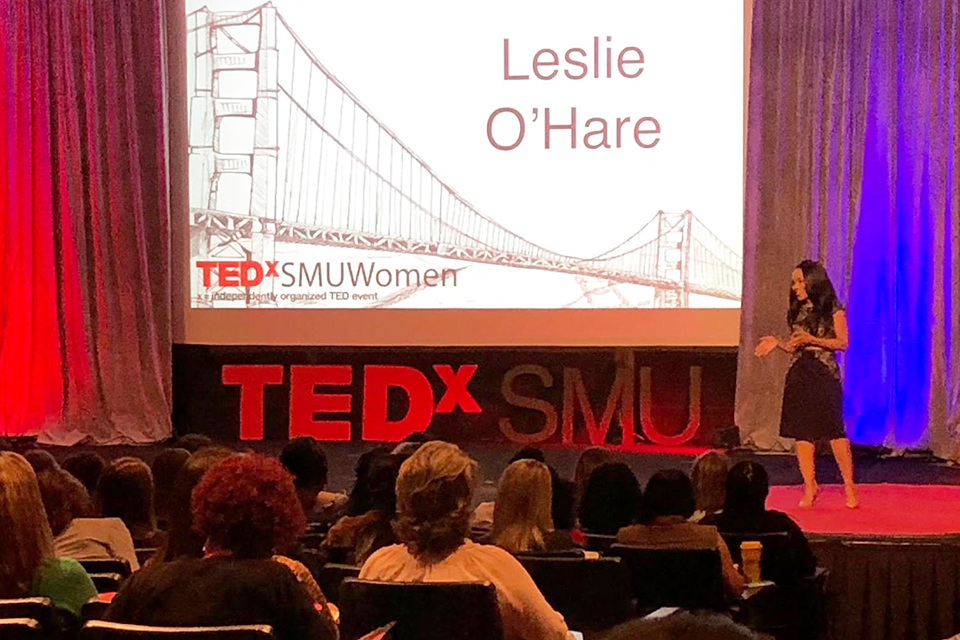 Today's blog is written by TEDx Empowerment Speaker, Leslie O'hare.  Her story and passion for women and girls is contagious and her love for God fuels her vision to help others recognize the champion within.
To hear the podcast go to:  https://itunes.apple.com/us/podcast/terri-baxter-part-1-emwomen-episode-807/id1412489045
4 Steps to "Unleashing the CHAMPION Within"
Q: Who is the greatest CHAMPION of the world?
A: Jesus Christ.
Q: Who did Christ create to become a CHAMPION here on earth?
A: You.
Psalm 188:5 (MSG) says:
"Pushed to the wall, I called to GOD; from the wide open spaces, He answered. GOD is now at my side and I'm not afraid; who would dare lay a hand on me? GOD is my strong champion…"
Our Champion, Jesus, gives us only His best. There is no greater Champion than Jesus. He is the all-time, undisputed, undefeated Champion of the World!
Everyone is looking for a hero, mentor, or CHAMPION, who can make them feel better about themselves. You don't need to look any further, Jesus Christ is the CHAMPION of the whole world! He has given [YOU] the POWER to Unleash the CHAMPION within.
God is raising up women who will defy the odds, destroy limiting mindsets and step into their rightful leadership position, and make an unforgettable impact in the world.
Here's how you can "Unleash the CHAMPION Within" and why [YOU] must "Unleash the CHAMPION Within":
1. Change Your Mindset
If you change your words, you will change your mindset. If you change your mindset, you will change your life.
Remember, you decide what stays in your mind. Whether it's good thoughts or bad thoughts; nothing has the power to live in your mind without your permission. The champion mindset does not accept defeat. You're not fighting for victory; you are fighting from a place of victory. God has gone before you to ensure that your battle(s) have already been won. Wake up everyday programming your mind to win by saying to yourself "I am an overcomer. I cannot and will not be shaken. I am unmoveable. I am unstoppable. I am powerful and I am destined to WIN!
Why? Because God LOVES [YOU]!
2. Refuse to Settle
Most people want to achieve success and most people want to become champions in some areas of their personal or professional life, however, testing, trials, and tribulations (what I like to call the hills and valleys of life) are the things that will empower them to become a champion. It's the challenges and the tough times that will unleash the champion inside of you. The challenges are a gateway to new possibilities and new realities.
As long as you don't allow the challenges to cause you to lose focus and take you under—you will WIN. You have free will to choose to awaken the champion within or choose to allow the champion to stay dormant and allow life to pass you by. It's ALL up to [YOU].
Today is the day to make the right decision that will impact for your life tomorrow.
Why? Because God LOVES [YOU]!
3. Take a Stance
Whenever you take a stance, a strong stance, you are putting yourself in a state that allows you to be in control of your mind, body and soul, basically, putting you front and center, in the driver's seat of your life. Now you have the power and strength to take on any challenge and not to allow the challenges or obstacles to take control of you. You control it by strongly holding onto your position, holding on to your stance with confidence, knowing who are and who you are meant to BE! You ask: "Who am I meant to be?" You are meant to BE a Strong, Courageous, Fearless CHAMPION!
Why? Because God LOVES [YOU]!
4. Choose to Live
Do this exercise. Close your eyes. I want you to ask yourself: "If you were told that you only had 5 minutes to live, what dream or goal would you want to achieve within those 5 minutes?"
Is it to start that business you've been dreaming about? Is it to be a better parent, better wife or husband, or to advance within your company? The clock is ticking. What do you wish you could accomplish?
Open your eyes. What is preventing you from making the last 5 minutes of your life a reality?
The good news is—you are going to live longer than 5 minutes. The amazing news is, you get to make the decision NOW to live the life that God created you to live.
Remember: You are a CHAMPION!
Why? Because God LOVES [YOU]!
____________________________
Listen to the full EMwomen podcast, go to:
https://itunes.apple.com/us/podcast/emwomens-podcast/id1412489045
To help us spread the word about EMwomen, please rate the podcast, leave a comment and then share it with others through social media.  We want women to know there hope beyond the pain and your support is helping us make change occur in the lives of many.
____________________________
No matter what your story might be, YOUR SCARS CAN BECOME STARS THAT LIGHT THE WAY FOR OTHERS and we are here to help you bring out your GOD COLORS in this world.
If you are ready to write a new ending to your story and use your history to create a better destiny for others, go to EMwomen.com/publish and register for our next PUBLISHING webinar where we'll be teaching you how to write your story, create your brand, and get your book published in 31 days or less.
____________________________
Please leave your comments and thoughts below by clicking the "comment" button at the bottom left.
Find this useful? SHARE this post and let's spread the word to more women!
___________________________
OUR CURRENT BOOK STUDY
Want to silence the voice of the enemy and listen ONLY to the voice of God's truth?  Want to clearly recognize God's perfect will in your life and have a peace in knowing you are fulfilling your purpose in life? Join us for our Summer Book Study and learn that living a GOD-inspired life of TRUTH really is Mission Possible.
___________________________
NEED PRAYER?
Visit our NEW EMwomen prayer app today!
___________________________
REFLECT AND RESPOND
Share your comments and ideas below to encourage others!
___________________________
FORWARD TO A FRIEND
If you enjoyed this post, please forward to a friend by clicking on one of the buttons on the left hand side of the page.