Join The EMwomen Power Circle ($299.00/year)
"By investing in yourself, you are investing in the future of other women and girls who need your help!"
The EMwomen Power Circles are a growing network of professional women who are not only passionate about their own personal and professional growth, but they are also dedicated to helping other women find lasting and sustainable change, as well. Power Circle Memberships are a life-blood to the women we reach as the funds from these memberships help EMwomen provide free programs and services to communities, families, and organizations. Power Circles meet monthly for women to network with other women professionals as they grow in leadership development, network with other women in business, learn valuable life skills, as well as collaborate on various community projects and creative ways to raise funds to support the ongoing efforts of EMwomen and the programs offered. Note: EMwomen is a non-profit 501(c)3 organization dedicated to helping women and girls make significant life changes that lead them to becoming catalysts of change within their community and world.
To become a member of an EMwomen Power Circle in your area, you must be invited to join by a local member or you must fill out an application online for review.
EMwomen Power Circles are for women and girls 16 years or older, who take their leadership development seriously and are willing to dedicate time and effort to advancing the effectiveness of their influence within their homes, community, and world.
A qualified candidate must display good character, a passion for leadership, and fit one of the following criteria:
Holds or has held a leadership position in her profession, school, or business.
Serves or has served as a community leader or has served her community with recommendations available.
Has a deep passion to grow in leadership and is willing to embrace the change necessary to do so. Note: We believe every woman has the potential for leadership and EMwomen is dedicating to giving her a chance to emerge as such.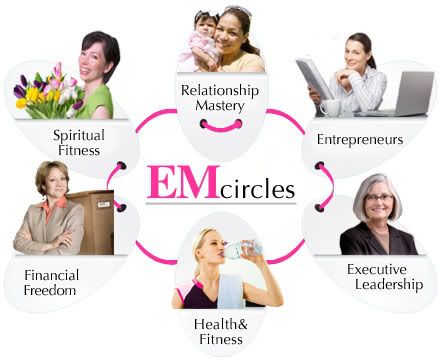 EMwomen's Power Circle Membership and the locally hosted EMcircles are the lifeblood of EMwomen vision to see women empowering women from all walks of life. As a member of the EMwomen Power Circle, not only will you be supporting the life-change of others, but you will also receive ongoing personal and professional coaching that will help to increase your productivity, demolish your debt, lose excess weight, inspire new business ideas, lead you to a life of greater peace, and connect you with the tools and resources so many other women have used in finding a place of peak performance.
BENEFITS of Joining The EMwomen Power Circle include:
Becoming connected to your community and its leaders
Working with other like minded leaders and female professionals to address community needs
Participating in EMwomen's Community Service and Humanitarian efforts
Accessing weekly coaching calls on the topics of Life Balance, Career Development,
Leadership, Faith, Family, Finances, and Fitness
Establishing contact with an international network of professionals and women in leadership
Developing leadership paradigms, public speaking skills, and becoming effective life-coaches
Finding accountability in reaching your goals in business, family, fitness, faith, and life.
Networking your business and ideas to community leaders and other members.
Receiving 25% off all EMwomen events, seminars, and workshops.
Your membership enables other women to find the life-change they need to turn their scars into stars that light the way for someone else's future.
RESPONSIBILITIES OF Power Circle Members
Being an EMwomen Power Circle Member is a great honor and also carries with it certain responsibilities:
Members are expected to attend monthly meetings of the circle and participate in community outreach projects.
Members are required to pay annual dues of $299.00 to EMwomen International.
All members will abide by and uphold the EMwomen Honor Creed.
Membership Application
By completing the online Membership Application, you are giving EMwomen International the authorization to pass your contact information along to Power Circle leaders in your area. You may be contacted by more than one Power Circle leader, giving you options of which circle to attend. It is up to you to find a circle that fits your personality and interests. Upon attending a circle, if you find that a circle is a good fit, you can ask that Power Circle leader to consider you for membership. With approval from the Power Circle Leader and the other circle members, the candidate may be invited to join the circle.
This process ensures a fit for both the new candidates and the women already committed to a given circle.
| | |
| --- | --- |
| Click Here To Join The EMwomen Power Circle Today! EMcircle Membership ($299.00/yr.) - | |
1

EM

community




Free Social Network

3

EM

circle




Membership $299